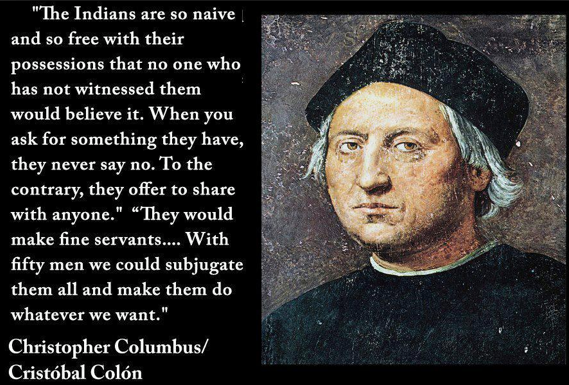 I'll start, I think, with our Enemy of the Moment: ISIS. What is it that ISIS does which is so reprehensible?
To name a few things:
Kill people who don't convert to their particular form of Islam
Kidnap, torture, rape and murder people
Claim territory by violence, despite who already lives on it or claims it
Use their religion to justify all of this evil behavior
So, in brief, for more than a thousand years, most of Christendom was equivalent to ISIS today. Under the auspices of the Doctrine of Discovery, and for a thousand years before then, Christians killed people who didn't convert to their form of Christianity; kidnapped, tortured, raped and murdered people; claimed territory by violence regardless of who was already living there (Gaul, Germania, Brittania, eastern Europe, the Holy Land; then the whole planet); used our (speaking to Christians here) religion to justify all of their evil behavior.
The Heresy of Discovery codified these horrific practices and gave them a new written authorization, but they were long-standing practices in every corner of the Christian world, and had been for a thousand years before. In fact, it seems that the most of Christian history, it has been decidedly Orthodox to believe that non-Christians are by definition not human – to be enslaved, slaughtered, driven out of their lands, stolen from, conscripted, and exploited in every way imaginable.
How is it that Christianity stopped doing this? We didn't. But that's for another post.
The Heresy of Discovery rests on another heresy, I think – the Heresy of Ownership. Psalm 24:1 is one of many, many, many passages that say, in no uncertain terms, that everything belongs to God, and that everyone belongs to God. Jesus's instructions when he sent out his disciples: own next to nothing. The early church described in Acts: no personal ownership. The Hebrews finally coming to the Promised Land: solved precisely zero problems, and caused many more.
Ownership, especially as imagined by Imperial Christianity then and now, invariably leads to exploitation, abuse, and violence. We see it in the brief quote from Columbus above – his thoughtless contempt for people who didn't share in his heresy of ownership, and his intuition that with just enough violence he could essentially own everyone he saw. That was the clear logical conclusion of the Heresy of Ownership. The crime isn't kidnapping, theft, rape, torture or murder – the crime is non-ownership. The unthinkable had occurred – millions of human beings living with ideas other than Imperial Christian ownership. What an amazing opportunity! And then comes the language of the New World, ripe for colonization; the wide open spaces, and opportunity for everyone, and all the gold you can steal. I mean, claim. It's only stealing when you take from someone else who is living under the Heresy of Ownership.
Ownership might be "nine tenths of the law", but it is also ten tenths of anti-Christ. Like twisted European Christian ideas of "Discovery", ownership is rooted in heresy and idolatry (among other things). The earth and everything in it belongs to God – giving it back should be step one.
"But we can't possibly do that!"
I know. Because we are heretics, and idolaters, and anti-Christ, and have been for a very long time.